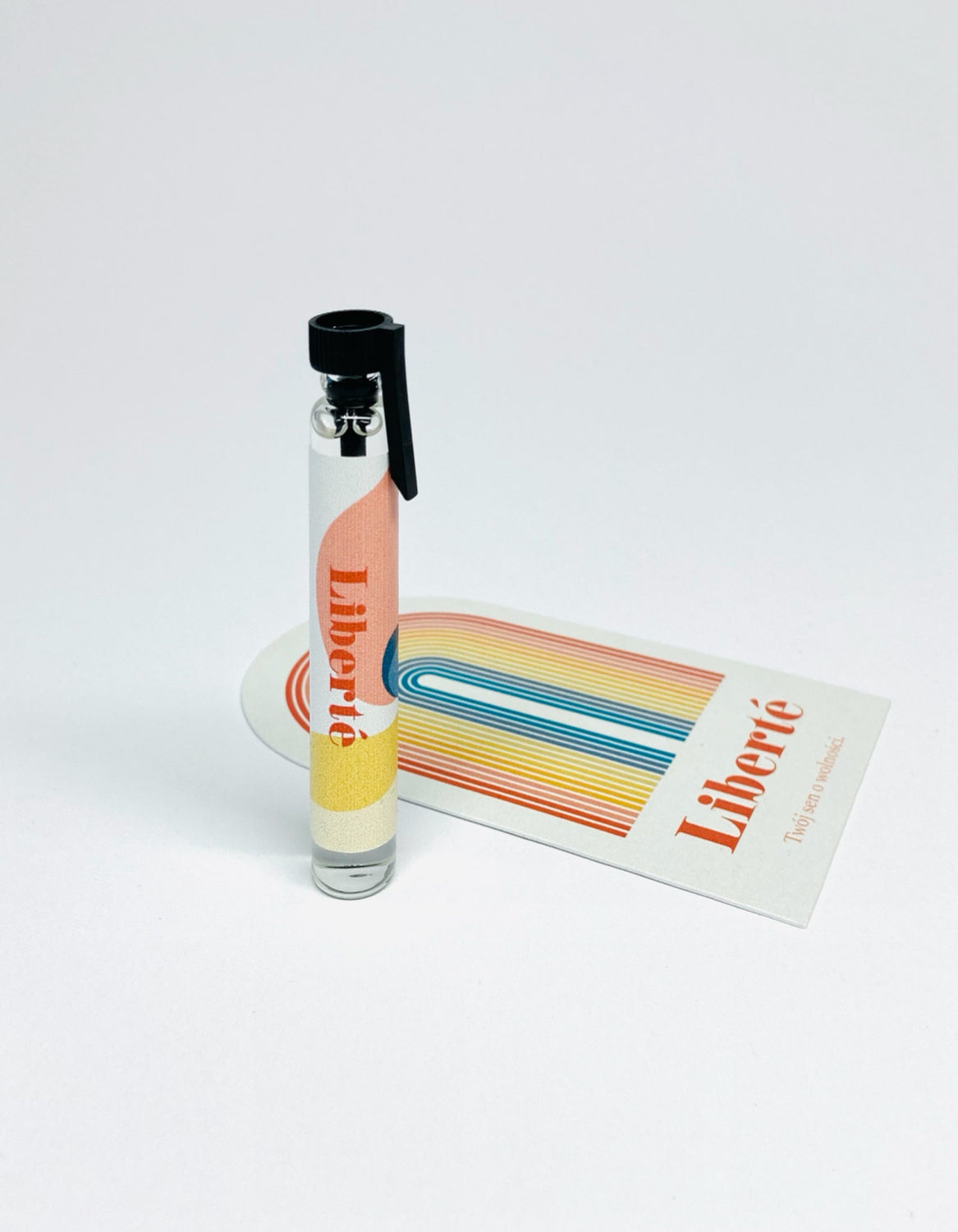 Perfume Looks by Luks - SET 3 Testers 3ml
A set of three samples of the Looks by Luks perfume created in cooperation with Mo61 Perfume Lab. The set includes 3 different perfume samples dedicated to our collections: The Roots, Liberte and Orgin.
The Roots is a scent of a woman enamored of the mysterious world of plants, who lives in harmony with herself and the world. Intense, but with just the right dose of subtlety. Full of well-balanced sweetness. Intoxicatingly fresh. She who wears it goes through life surrounded by the hints of pink pepper and white sage, crowned with mysterious myrrh. Her each step is full of respect and love for nature, with its wisdom filling her with inspiration and the energy to live.
A woman wrapped in the scent of Liberte boldly walks through life, never giving up in the face of adversity.  It is the sea salt vibrating in the heart of the composition that takes us on this beautiful journey, gently swathing the base built of an intriguing sandalwood molecule. It is javanol, woody and citrusy at the same time, that makes the fragrance's soul, perfectly harmonious with the spirit of freedom. The culmination and at the same time the leitmotif of the fragrance is the scent of blackcurrant leaf, so fascinating, yet full of contradictions. The whole composition is reminiscent of forests, sea and fruit, introducing an element of "familiarity", while still remaining extremely elegant and casual.
The magic of Origin is enchanted in the "sacred tree" incense known as Palo Santo. Used in folk medicine for ages, it is still valued for its miraculous properties: cleansing the mind, helping to prepare for meditation, protecting against "bad energy", boosting health and attracting prosperity. Palo Santo adds the finishing touch to our beautiful composition, allowing you to start each day with a wonderful sense of inner peace. Good mood and success in every field guaranteed!
Each fragrance available in 3 ml bottle, in limited quantities.
COUNTRY
SHIPPING COSTS (via courier)
AUSTRIA
6.50 EUR 

*

BELGIUM
7.00 EUR 

*

BULGARIA
8.50 EUR 

*

CROATIA
8.00 EUR 

*

CYPRUS
29.50 EUR
CZECH REPUBLIC
7.00 EUR  

*

DENMARK
7.50 EUR 

*

ESTONIA
11.00 EUR 

*

FINLAND
15.50 EUR
FRANCE
11.00 EUR 

*

GERMANY
6.50 EUR 

*

GREECE
5.50 EUR
HUNGARY
9.00 EUR 

*

ICELAND
National Post: 5.50 - 7.70 EUR
IRELAND
18.00 EUR
ITALY
10.50 EUR 

*

LATVIA
10.00 EUR 

*

LIECHTENSTEIN
36.50 EUR
LITHUANIA
9.00 EUR 

*

LUXEMBOURG
8.00 EUR 

*

MALTA
24.00 EUR
NETHERLANDS
7.50 EUR 

*

NORWAY
52.00 EUR
PORTUGAL
10.50 EUR 

*

ROMANIA
11.00 EUR 

*

SAN MARINO
32.50 EUR 
SERBIA
13.50 EUR 

*

SLOVAKIA
6.50 EUR 

*

SLOVENIA
9.00 EUR 

*

SPAIN
12.00 EUR 

*

SWEDEN
12.00 EUR 

*

SWITZERLAND
36.00 EUR
TURKEY
53.50 EUR
UK
National Post: 5.50 - 7.70 EUR
For the countries not mentioned above: 
| | |
| --- | --- |
| COUNTRY | SHIPPING COSTS (via National Post) |
| ASIA | 11.00 EUR |
| SOUTH AMERICA | 11.00 EUR |
| AFRICA | 10.00 EUR |
| NORTH AMERICA | 10.00 EUR |
* Free shipping available for orders over 195.00 EUR
Payment methods: 
SIX Payment Services (via Przelewy24):
Certified fabrics and prints
All fabrics that we use for production are certified with at least OEKO-TEX or GOTS (Global Organic Textile Standard) certificate.
Ecological packaging
Individual orders are packed in cardboard boxes, and wholesale orders - mainly in reused boxes. Labels are made of recycled paper.
Less plastic
We minimize the use of plastic both in packaging and in our daily office life. We care for the environment by segregating waste.
Unique designs
Our philosophy is to create unique products available in small quantities, in cooperation with young, talented artists, while addressing topics that are close to our hearts. We only release two collections per year, to avoid encouraging excessive consumption.
Local production
We sew mainly in a small workshop in Sopot and pay decent salaries to our seamstresses.