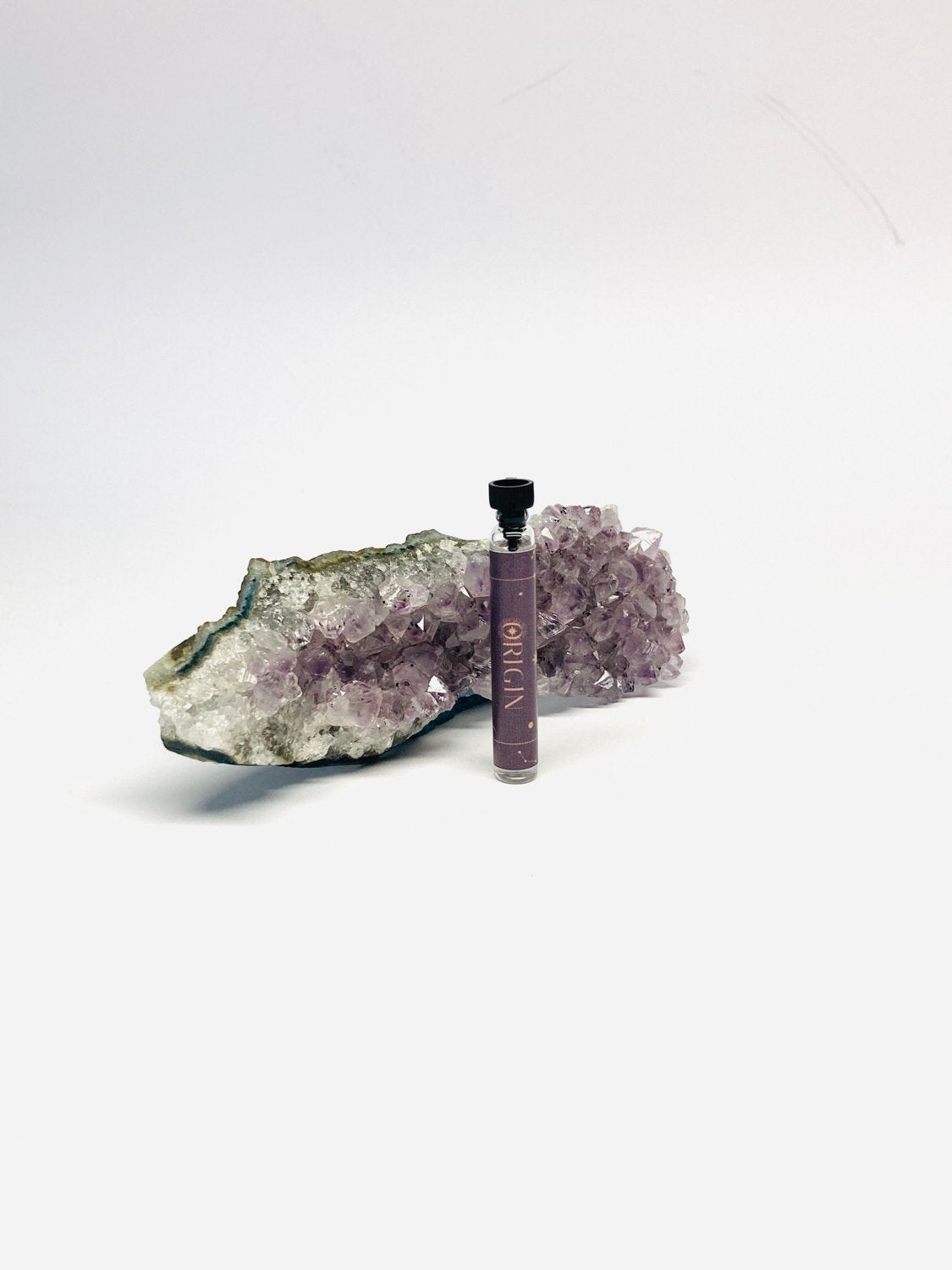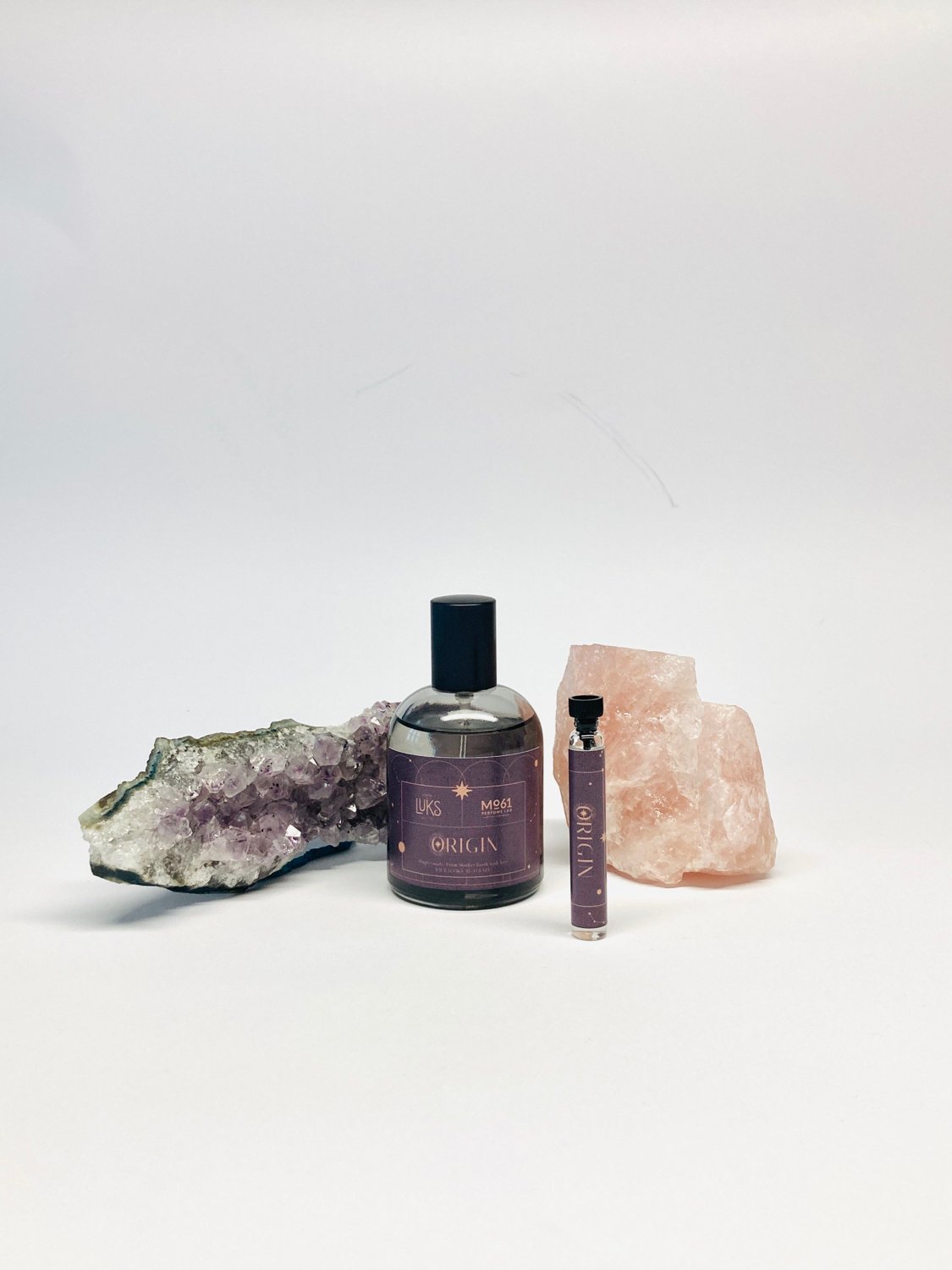 Origin Perfume 3ml Tester
It seems much easier to survive colder and longer autumn days enveloped in smouldering scents, isn't it? Our senses love being close to nature, giving us pleasant shivers when we smell mowed grass, wet earth on rainy days, freshly picked flowers… The magical power enchanted in fragrances can change our mood, fill us with inspiration and energy to act. Just like the natural stones that inspired us to create the Origin collection, they have been with us since the Beginning - our invisible, faithful companions on the path of life.
During autumn and winter time we're more inclined to pause and reflect on life, spend time recharging batteries and meditating - and nothing helps us achieve zen like scents do! Thanks to Luks you won't need to explore secret esoteric knowledge to achieve peace of mind and open yourself to good energy. Not only do we give you new original prints filled with the positive energy of crystals, but we also bring you - continuing our little tradition that began with The Roots collection - a truly unique fragrance created in collaboration with Mo61 Perfume Lab. Intense, yet balanced, with just the right dose of dry sweetness. It'll surround you with notes of pink pepper and white sage mixed with mysterious white sage. Its uniqueness, however, lies in the top notes, the real crown…
The magic of Origin is enchanted in the "sacred tree" incense known as Palo Santo. Used in folk medicine for ages, it is still valued for its miraculous properties: cleansing the mind, helping to prepare for meditation, protecting against "bad energy", boosting health and attracting prosperity. Palo Santo adds the finishing touch to our beautiful composition, allowing you to start each day with a wonderful sense of inner peace. Good mood and success in every field guaranteed!
Perfume available in 3ml bottles, in limited amounts.
COUNTRY
SHIPPING COSTS (via courier)
AUSTRIA
6.50 EUR 

*

BELGIUM
7.00 EUR 

*

BULGARIA
8.50 EUR 

*

CROATIA
8.00 EUR 

*

CYPRUS
29.50 EUR
CZECH REPUBLIC
7.00 EUR  

*

DENMARK
7.50 EUR 

*

ESTONIA
11.00 EUR 

*

FINLAND
15.50 EUR
FRANCE
11.00 EUR 

*

GERMANY
6.50 EUR 

*

GREECE
5.50 EUR
HUNGARY
9.00 EUR 

*

ICELAND
National Post: 5.50 - 7.70 EUR
IRELAND
18.00 EUR
ITALY
10.50 EUR 

*

LATVIA
10.00 EUR 

*

LIECHTENSTEIN
36.50 EUR
LITHUANIA
9.00 EUR 

*

LUXEMBOURG
8.00 EUR 

*

MALTA
24.00 EUR
NETHERLANDS
7.50 EUR 

*

NORWAY
52.00 EUR
PORTUGAL
10.50 EUR 

*

ROMANIA
11.00 EUR 

*

SAN MARINO
32.50 EUR 
SERBIA
13.50 EUR 

*

SLOVAKIA
6.50 EUR 

*

SLOVENIA
9.00 EUR 

*

SPAIN
12.00 EUR 

*

SWEDEN
12.00 EUR 

*

SWITZERLAND
36.00 EUR
TURKEY
53.50 EUR
UK
National Post: 5.50 - 7.70 EUR
For the countries not mentioned above: 
| | |
| --- | --- |
| COUNTRY | SHIPPING COSTS (via National Post) |
| ASIA | 11.00 EUR |
| SOUTH AMERICA | 11.00 EUR |
| AFRICA | 10.00 EUR |
| NORTH AMERICA | 10.00 EUR |
* Free shipping available for orders over 195.00 EUR
Payment methods: 
SIX Payment Services (via Przelewy24):
Certified fabrics and prints
All fabrics that we use for production are certified with at least OEKO-TEX or GOTS (Global Organic Textile Standard) certificate.
Ecological packaging
Individual orders are packed in cardboard boxes, and wholesale orders - mainly in reused boxes. Labels are made of recycled paper.
Less plastic
We minimize the use of plastic both in packaging and in our daily office life. We care for the environment by segregating waste.
Unique designs
Our philosophy is to create unique products available in small quantities, in cooperation with young, talented artists, while addressing topics that are close to our hearts. We only release two collections per year, to avoid encouraging excessive consumption.
Local production
We sew mainly in a small workshop in Sopot and pay decent salaries to our seamstresses.