Looks by Luks is another – after Teo, Mia and Zoe – child of ours, born of passion and… pure coincidence!
For many years - in fact, as long as I can remember - I've been wearing various turbans bought in vintage stores and wrapping shawls around my head in a fanciful way. Needless to say I love traditional Japanese kimono - everything exotic, atypical, so different from what I saw on Polish streets in my youth still fascinates me. Yet, I've never imagined creating my own fashion brand. Until one memorable trip to Mexico… 
Then, 5 months pregnant with Teo, I saw in a restaurant a little girl with a pretty turban on her head and decided that I would buy something similar for my future daughter!
This is how my biggest life journey began. I founded my own brand specializing in original headgear, a real trendsetter on the Polish market. Today, with pride and great emotion, I'm watchingLooks by Luksgrowing, developing so beautifully! A company that brings together wonderful people, creates new trends and promotes our life philosophy stemming from personal experiences. We managed to pave the way for turbans on the Polish market and we keep adding new products to our offer, all of them sewn from the best quality fabrics. Environmental care and customer awareness are among our top priorities. We sew to order in a small workshop in Sopot, producing exactly as much as needed, following the zero waste philosophy. Each collection, marked by original prints, carries a unique message and supports selected social initiatives and foundations.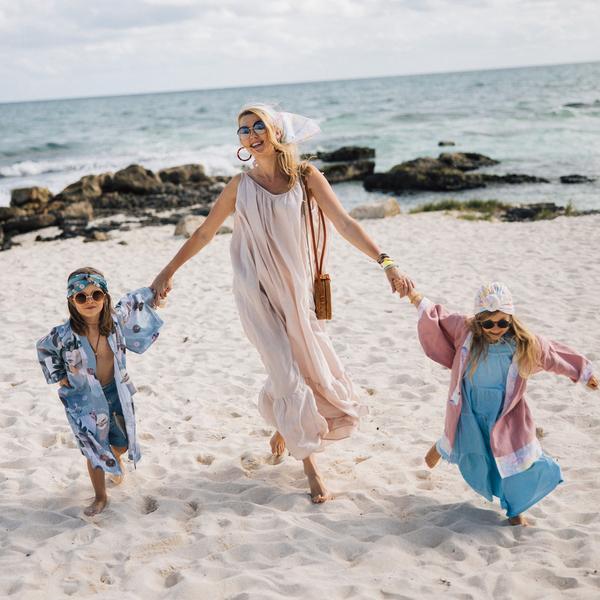 Looks by Luks is, first and foremost, made by people who love what they do and want to instill their outlook on the world in others. The path that led us to where we are today is full of memorable events you can read about below. Where are we heading? Wherever fate will take us! Our heads are full of ideas and positive energy that allows us to constantly develop and accept life's challenges with open arms. In 2021 it took us back to where it all began - to exotic Mexico, from where we successfully continue to run our office and Atelier in Sopot. Impossible? There's no place for such a word in the Luks dictionary! :-)
Thank you for being with us. Our doors are always open. Please, feel invited!
Sylwia Luks
Mad, mad head … ?
I've been in love with turbans, shawls wrapped around the head and Japanese kimono since, like, forever. I missed a bit of such 'madness' on Polish streets…
2013
The memorable trip to Mexico...
during my first pregnancy with son Teo. I saw a little girl in a beautiful turban and wanted the same one for my future - then only planned - daughter.
XII/2015
A daughter on the way
Pregnant with Mia, my first daughter, I reminded myself of that lovely girl in a turban from a Mexican restaurant …
II/2016
The first turban
Together with my mother-in-law we tried to sew a turban for Mia, similar to the one stuck in my head, for the first time. It turned out great!
III/2017
The power of social media
During our next trip to Mexico and Fuerteventura I posted quite a lot of Instagram Stories that have received a surprisingly large response! Admiring Mia in colorful turbans, my followers started asking if I could sew such headwear for them.
VII/2017
Looks by Luks is born
Encouraged by positive comments, I took up the challenge and founded Looks by Luks. Initially, I sewed the turbans from ordinary cotton and presented them on pictures of myself and Mia, taken with... my phone.
II/2018
Going eco
In line with our ecological lifestyle, I wanted to make the company more sustainable. In February 2018, I managed to introduce turbans from the Organic line, sewn from certified organic cotton.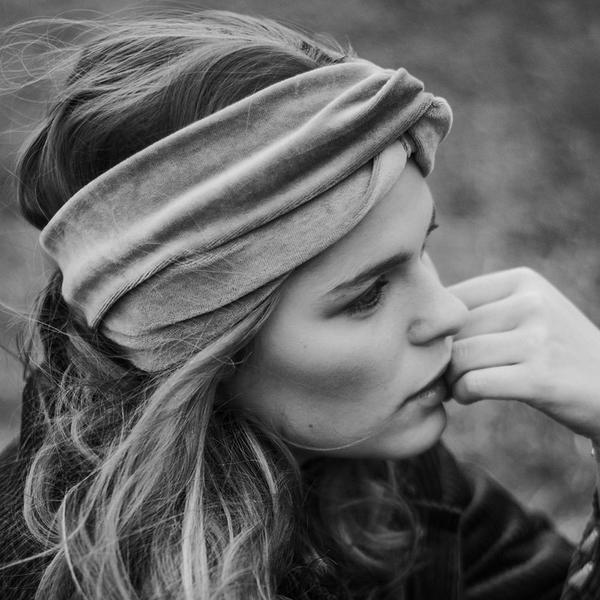 IX/2018
An alternative
Responding to the growing popularity of our turbans I decided to go one step further and introduce Looks by Luks headbands for adults. Today we have them in three variants and three different sizes, plus headbands for men!
XII/2018
My own place
By the end of 2018 a great dream of mine has come true - my own Atelier LUKS & Pop-Up Store! 
Our little kingdom is located at Haffnera 42 street in Sopot and, in addition to products with the Looks by Luks label, offers a whole lot of wonders from friendly brands.
2019
Conquering the world
2019 was a turning point in terms of our participation in numerous international fairs. Since then, Luks has been successfully expanding beyond the borders of Poland, emphasizing the brand's presence on the global fashion markets.
2020
More...
… and more new products and fabrics! In 2020 I finally managed to introduce yukata and haori kimono, inspired by the traditional Japanese clothing. Still focused on being as environmentally friendly as possible, we also withdrew products made of viscose, lycra, polyester lace, and introduced bamboo cotton instead.
VIII.2021
... and further and further!
… 2021 has brought us many great moments and exciting projects, as well as a great accolade. At the end of August, we joined the ranks of wonderful brands displaying their offer at the Mokobébé Concept Store on Mokotowska street in Warsaw. You will find there a beautifully arranged Looks by Luks corner offering both our bestselling items and new arrivals. It's the second place, after the Atelier in Sopot, where you can see and try on most of our products.
2021
Not only for women
It's not the end yet of new surprises - we have so many ideas, it'll suffice for a couple of years! Apart from products for children and women we now have a "for him" section, our offer also includes multifunctional scarves and dresses. Introducing the Velvet Organic line, sewn from velvet's ecological alternative, was also a great accomplishment - one we're very proud of!
2023
Viva (México)!
After two difficult years of a struggle the entire world went through, we have still managed to maintain and develop the Luks brand. Physically in our dream Mexico, yet with hearts always in Poland, we keep running the business remotely and with quite good results. In the meantime, we rebranded, closed the Atelier in Sopot and ourspace in the Warsaw's Mokobebe Store, to focus on online sales, adopting the strategy of minimalism. We introduce new designs and products less frequently, in smaller drops, creating limited editions of unique clothes that cater to the needs of our faithful customers. What's next? Let's find out soon! :)