AW'22/23
- SUN BLESSED -
The Sun. It is what makes our morning more beautiful. It is what makes us welcome each day with new energy. It is what makes us want to fully live, to experience, to bloom… any time of the year! Even if 93 million miles away, it remains so close to our hearts. Inextricably linked to nature, it makes everything around us more meaningful.
SUN BLESSED
These are three tales of its generous gifts, expressed in the form of original prints. IRIS, designed by Anna Rudak, warms you with the glow of life-giving sunrays. FLORES, by Kasia Smoczyńska, draws much from the gifts of Mother Earth, depicting the abundance of plants. Marta Przepiórka's pattern named ALMA refers to the soul seeking new ways of achieving a wonderful connection with nature. Here, floral motives take the form of colorful palms, flowers and leaves, with a strong accent of geometric patterns inspired by Aztec culture.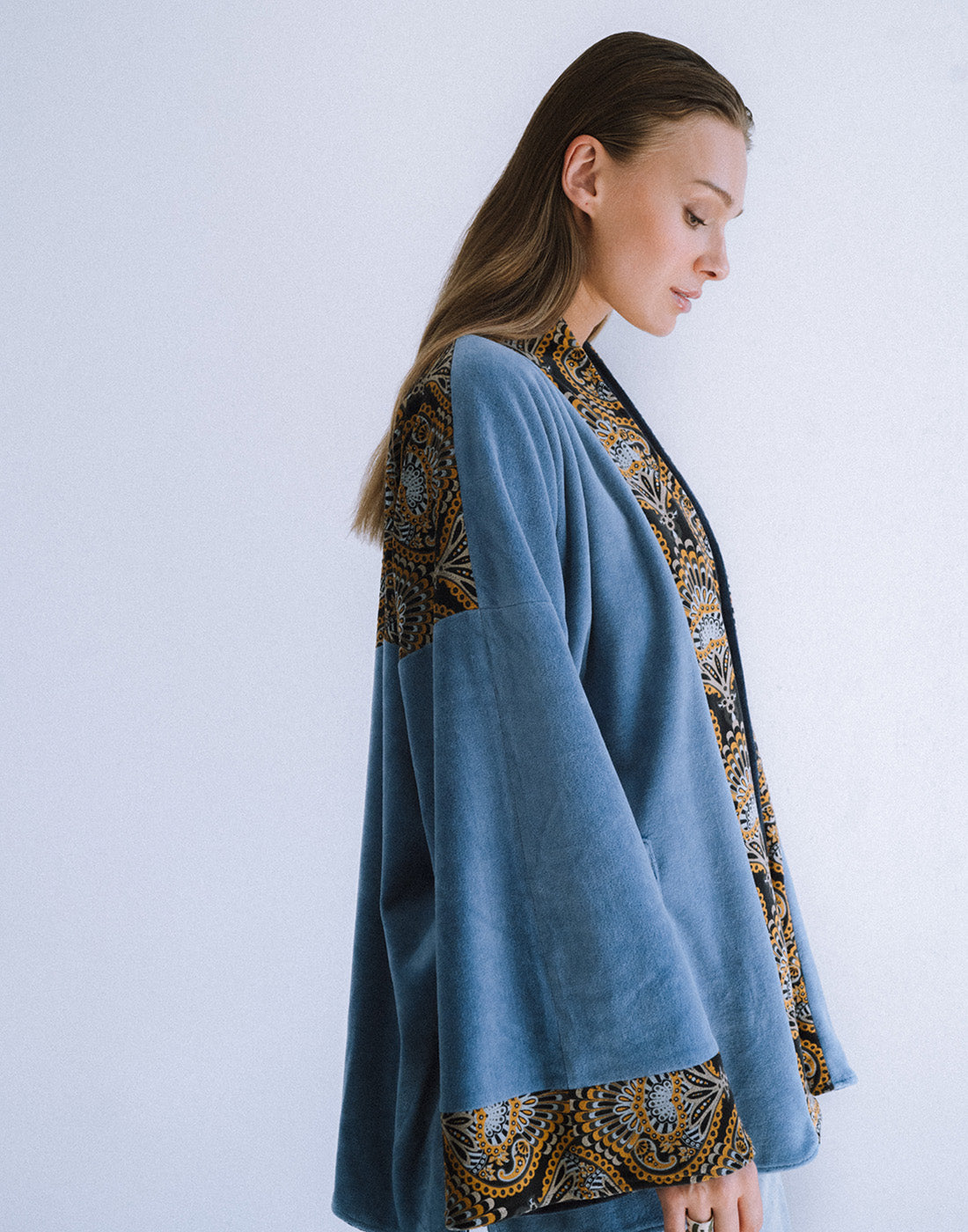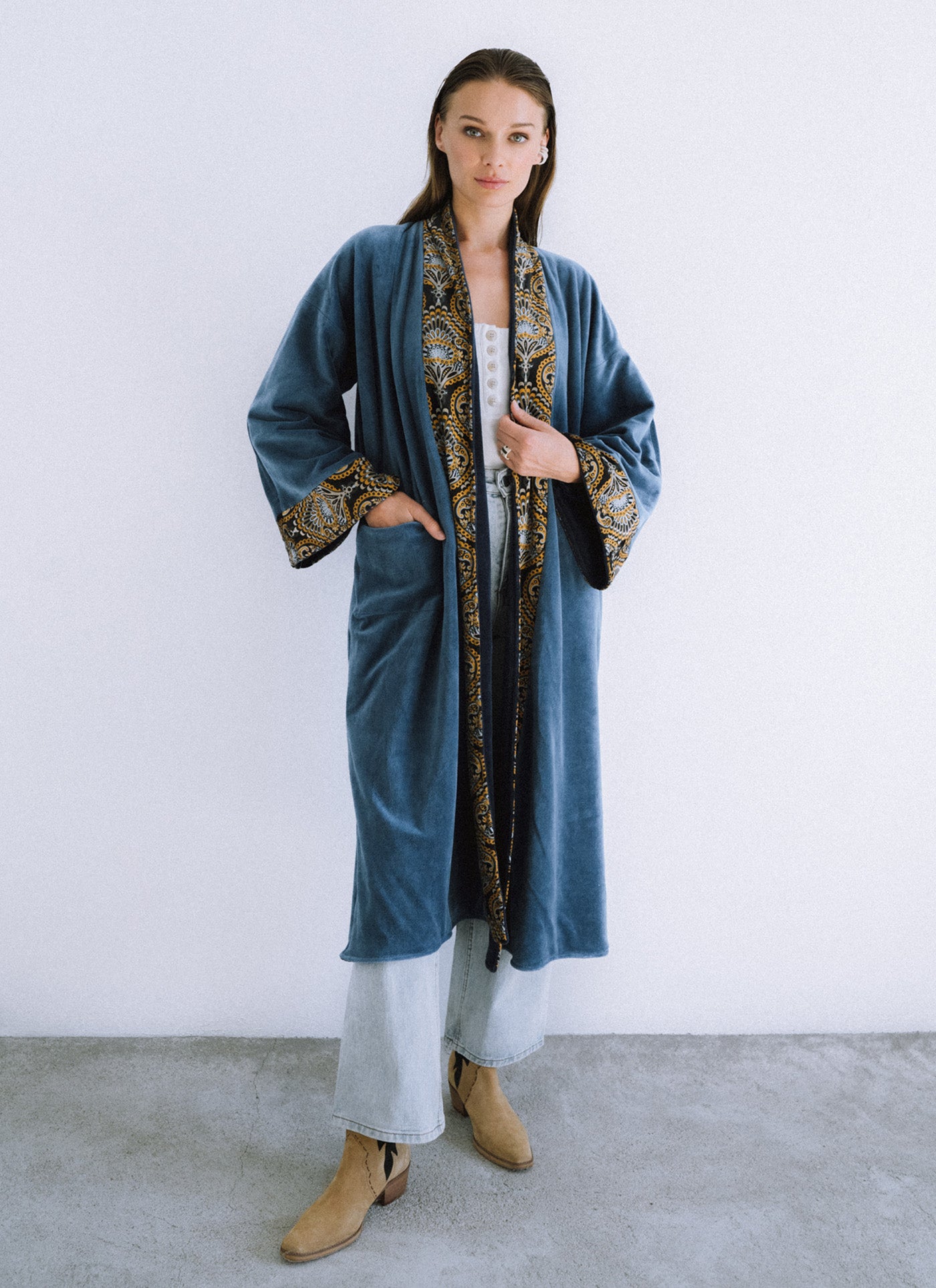 modern classic
VELVET KIMONO JACKET
The AW season surefire bestseller! You can also wear this original outer garment as an alternative to jumpers. Hide it under a thicker coat when the frosts come, and when you take it off… you'll stand out from the crowd thanks to an original pattern with oriental vibes! Show the two faces of your kimono depending on the mood, which you can express by switching between two classic color themes to choose from. Have fun and look stunning :)
modern classic
VELVET KIMONO COAT
An elegant coat? Always en vogue, but why not choose a "spiced-up" version. Timeless velvet with a characteristic paisley pattern leaves no place for boredom in everyday outfits, adding a bit of efortless elegance. Classic cut and warmer, extremely pleasant to the touch fabric are perfect for lower temperatures.
At the end of summer Luks does not say goodbye to the omnipotent Sun. We wish to cherish its beauty and feel this extraordinary power for as long as possible. The AW 2022/2023 SUN BLESSED collection pays homage to the hapiness, strength and vitality the Sun bestows on us all. The colors of the collection are reflecting the shades of the Earth and the Sun setting over it, focusing on subdued orange, classic beige, dark pink and khaki. New cuts and colors will effortlesly compose a perfect total look with flagship Luks products.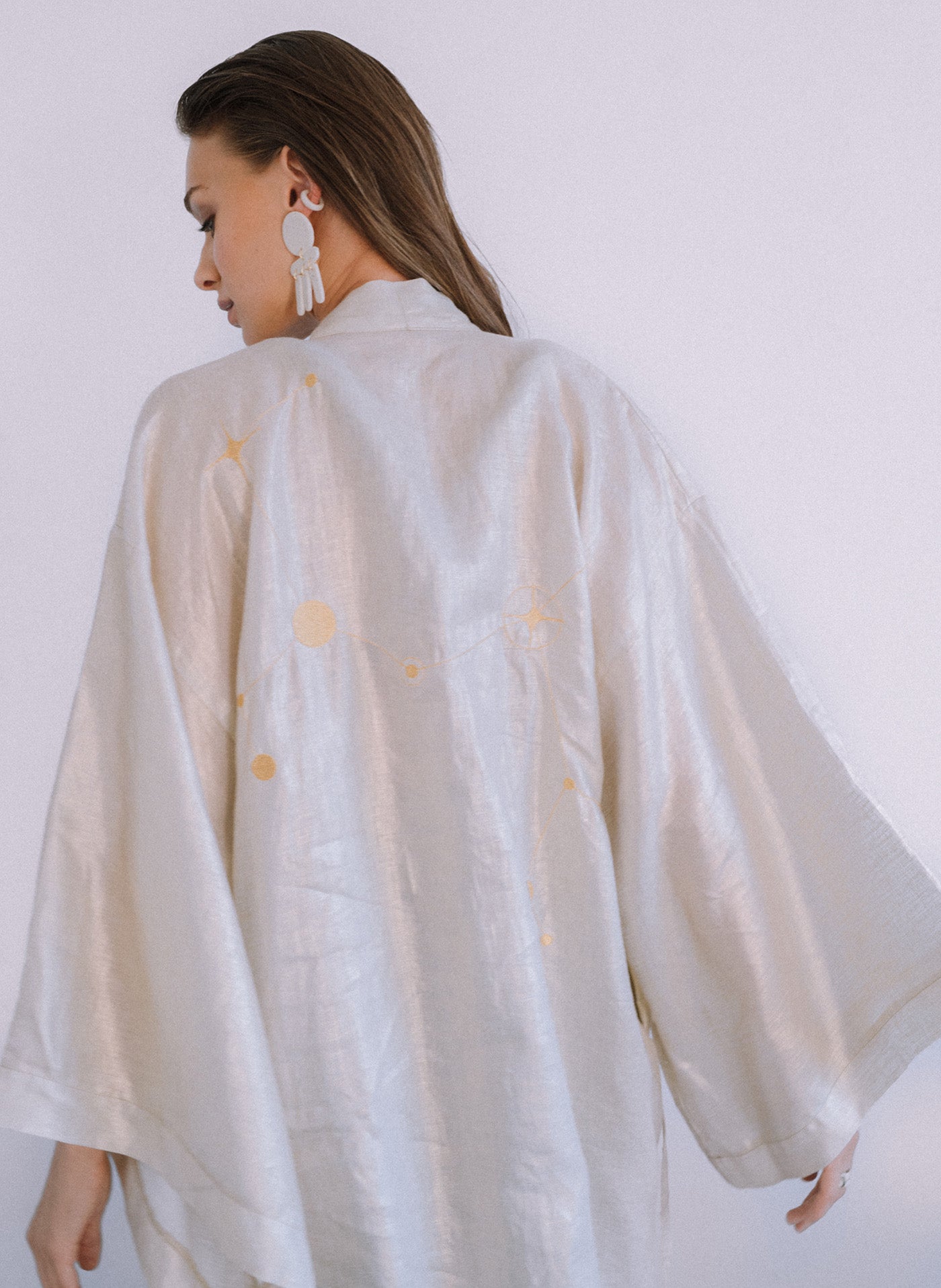 YOURS AND YOURS ONLY
Golden Zodiac Furisode Kimono
The best remedy for autumn gloom? A special gift from Luks for every faithful #luksgirl! A beautiful, personalized kimono made entirely of coated linen with a golden glow will light up even the most cloudy day, making you feel like a million dollars - every morning!
Golden Zodiac Kimono with a Furisode cut and its trademark 'swinging sleeves', which perfectly emphasize the undeniable charm of this gorgeous kimono. The characteristic flared sleeves distinguish it from similar outerwear, while the drawstrings and capacious side pockets add practicality.
485 - 582
Golden Zodiac Furisode Kimono
This special kimono is a bridge between the new AW'22/23 SUN BLESSED collection and its predecessor, the summer MANIFEST line with the power of stars enchanted in it.
Decorative embroidery on the back showing your zodiac sign will become a personal amulet, with which your most deeply hidden dreams will come true.
The kimono is made of 100% high-quality fabric that will last for many seasons. Allow yourself that little bit of luxury!
UNIQUE ACCESSORY
CLAY JEWELRY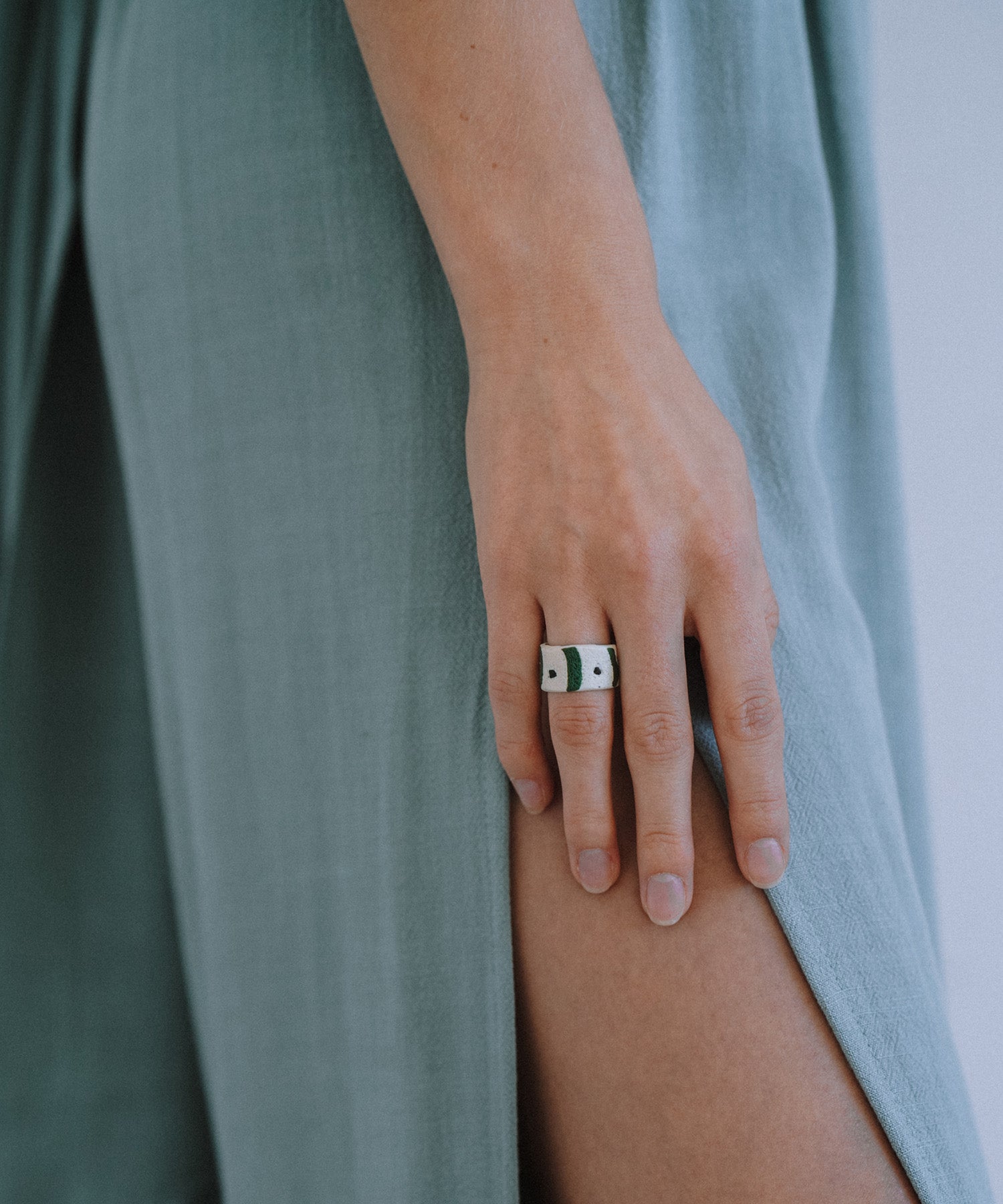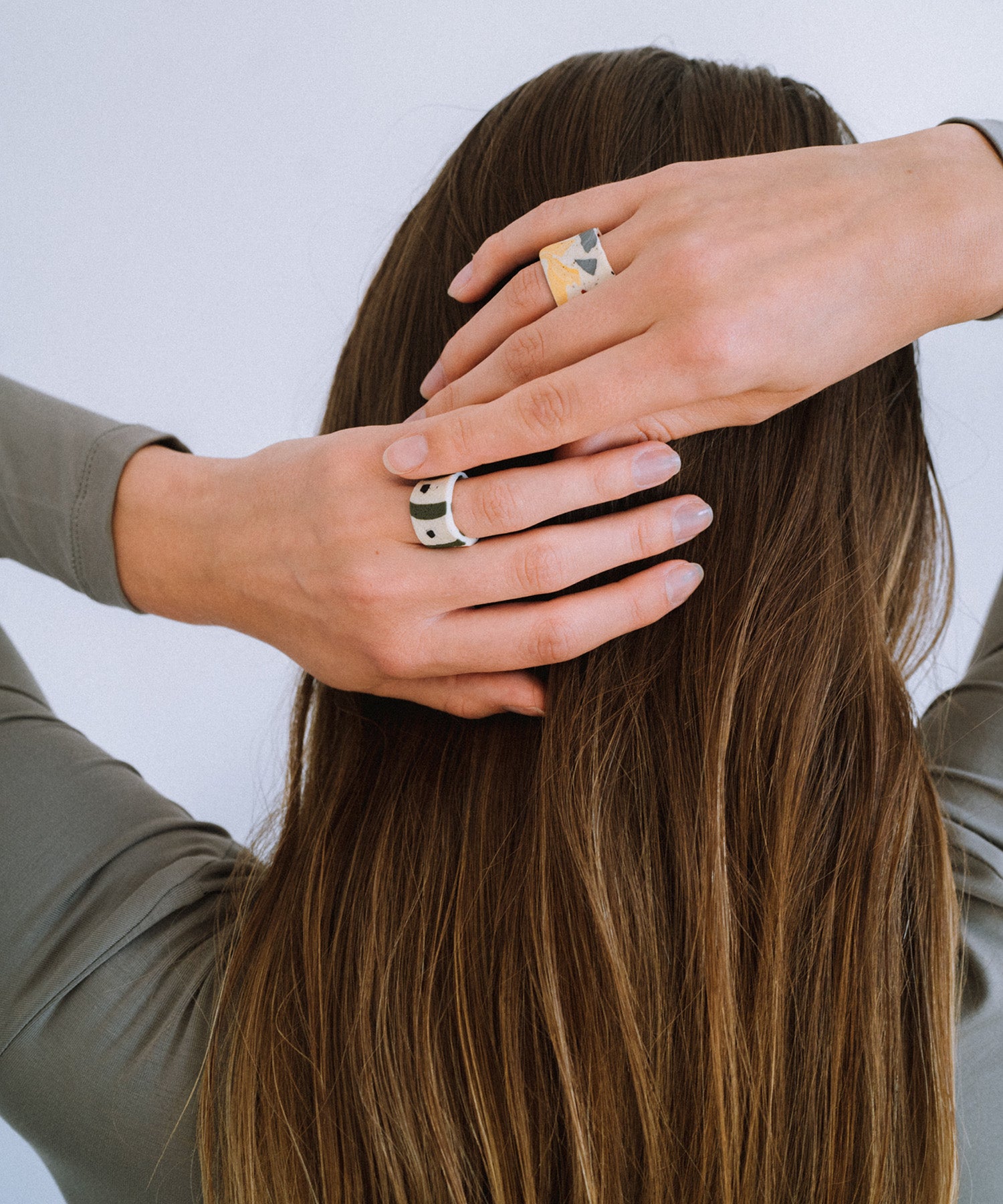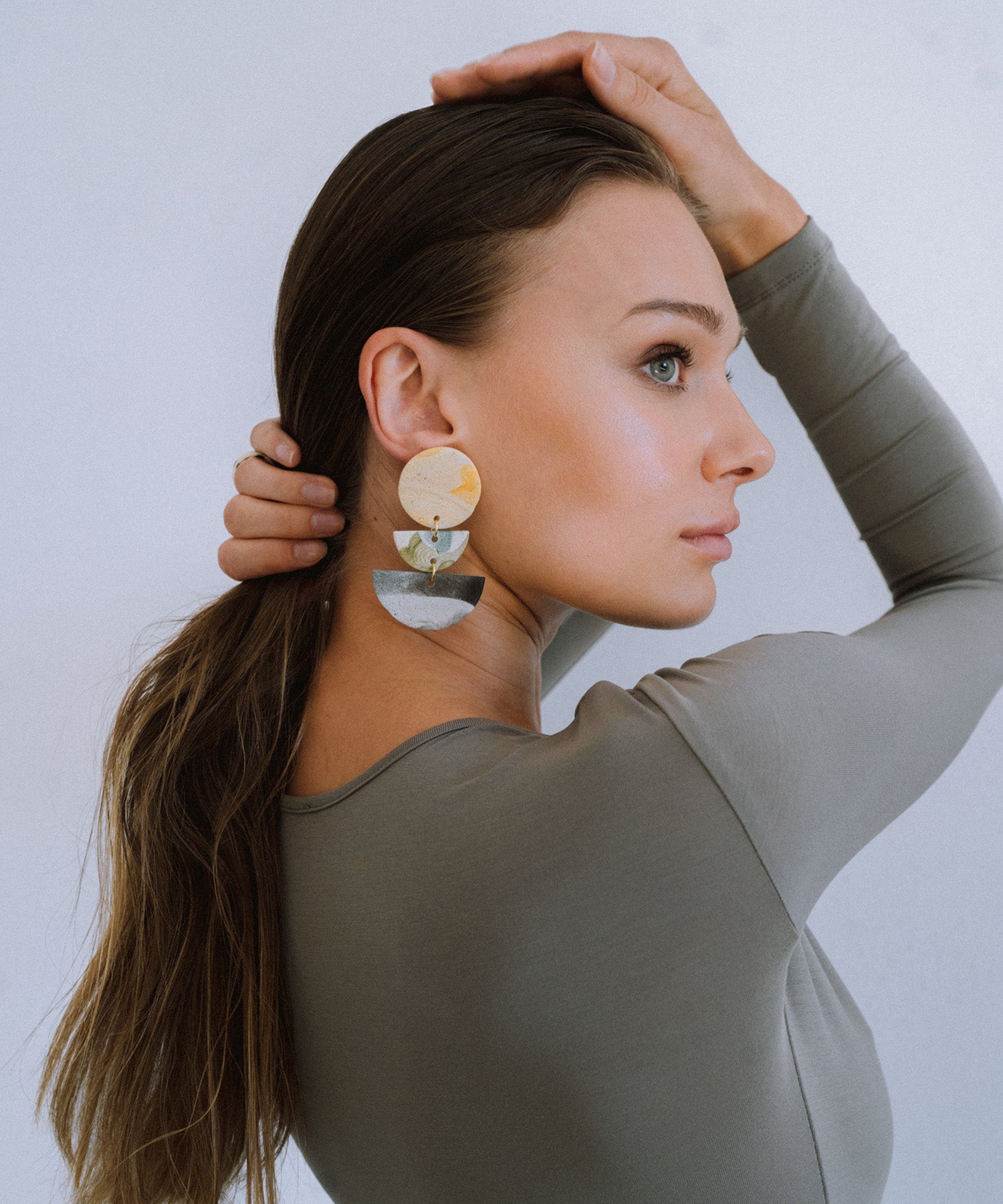 LA DIOSA, or hello Goddess
That's how you'll feel wearing La Diosa earrings, rings and ear cuffs! They will perfectly complement even the most ordinary outfit and bring out your natural beauty, emphasizing it in a very original style. We created La Diosa clay jewelry (Spanish for "goddess") created in cooperation with the Polish brand GLINA (Polish for "clay"). Each pair is handmade, created in a home studio in Poznań with utmost attention to the smallest detail. Small works of art created during a multi-stage process are truly unique elements that won't form two identical pairs. The jewelry is made of light, polymer clay and anti-allergic surgical steel, friendly to even the most sensitive skin. It will be your favorite accessory, both now and in spring - take our word for that!
THE SCENT OF THE SUN
SUN BLESSED Perfumes
What does the Sun smell like? Like warm sand underneath bare feet. Like delish fruit eaten straight after picking them up from a tree. Like a fresh sea breeze that gently skims  moist hair. Like happiness, warmth, carefreeness. The essence of life.
The SUN BLESSED perfumes created in collaboration with Mo61 Perfume Lab, become the most pleasant postcard from a summer destination, bringing back the smile full of gratitude for each warm and sunny day to remember. It is also an ideal companion for the autumn and winter evenings, boosting your mood and dispelling the darkestclouds, like the beloved Sun itself.
Our brand's image has been constantly evolving, reflecting the lifestyle and aesthetic fascinations of Luks' founder, Sylwia. 2022 shows, first and foremost, our incessant awe of mexican culture, the place she's been calling her new home for more than a year now. The brand's newest collection SUN BLESSED is also a subtle invitation to the world filled with mysticism, where life goes on in the rythm of nature. Luks is no longer limited to their - already iconic - turbans and headgear. The wide range of products is constantly expanded by women's and men's clothing, in search of stylish compromises between an original style, comfort and usability.
In accordance with the idea of sustainable fashion the brands invariably uses in production only ecological, certified, highest-quality fabrics, such as organic cotton, velvet or bamboo knitwear. In the spirit of the SLOW FASHION and ZERO WASTE trends, fabrics leftovers take form of original scrunchies or hairbands and orders are packed in biodegradable packaging. We focus on creating products that can be worn in many ways, thus eliminating excessive consumerism. Moreover, along with the new collection we launch the new REWORK project, our way to give new life to unwanted materials. We will be adding unique, hand made products in very limited amount. We will be dropping literally single pieces, so it's going to be exciting. Who dares wins!