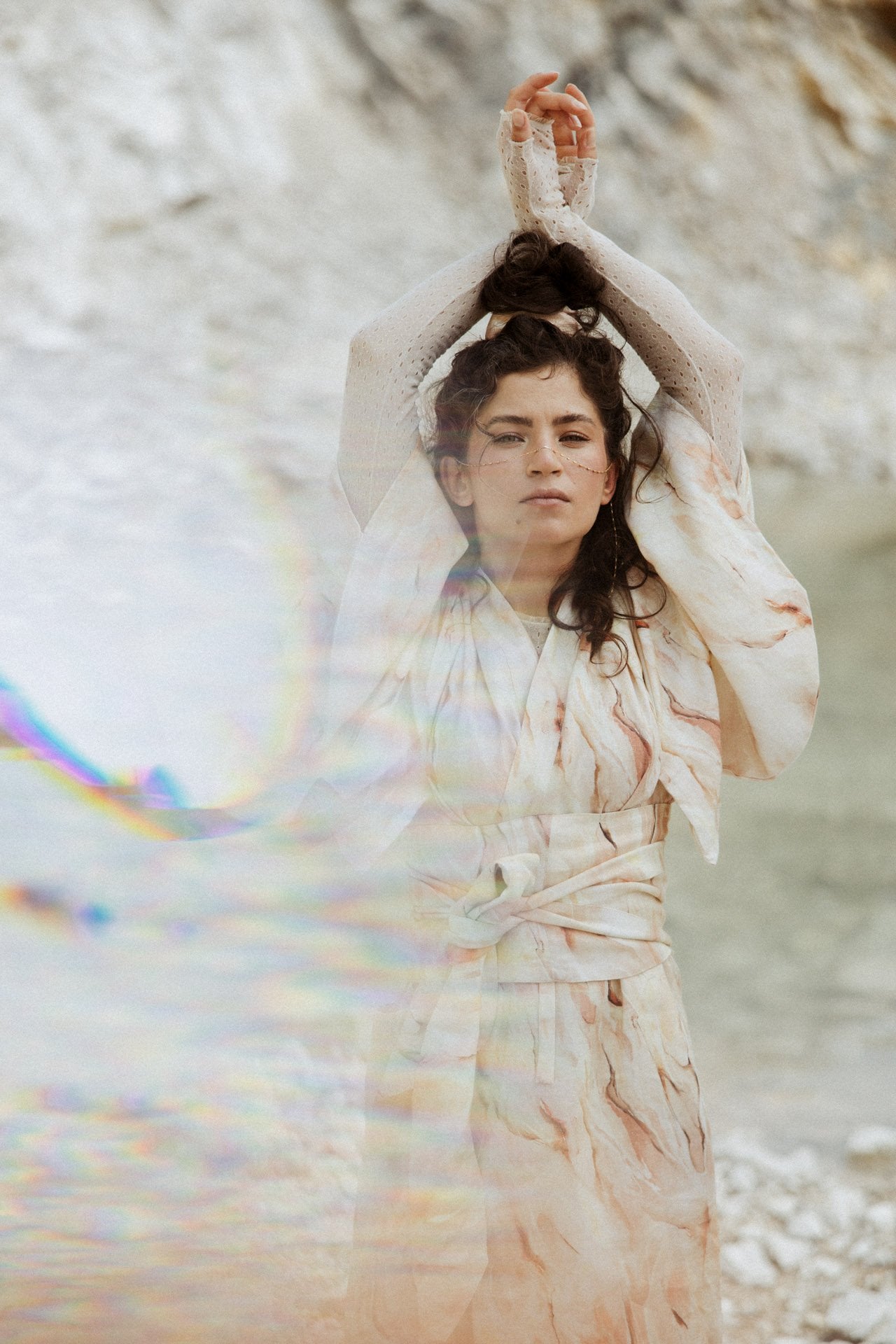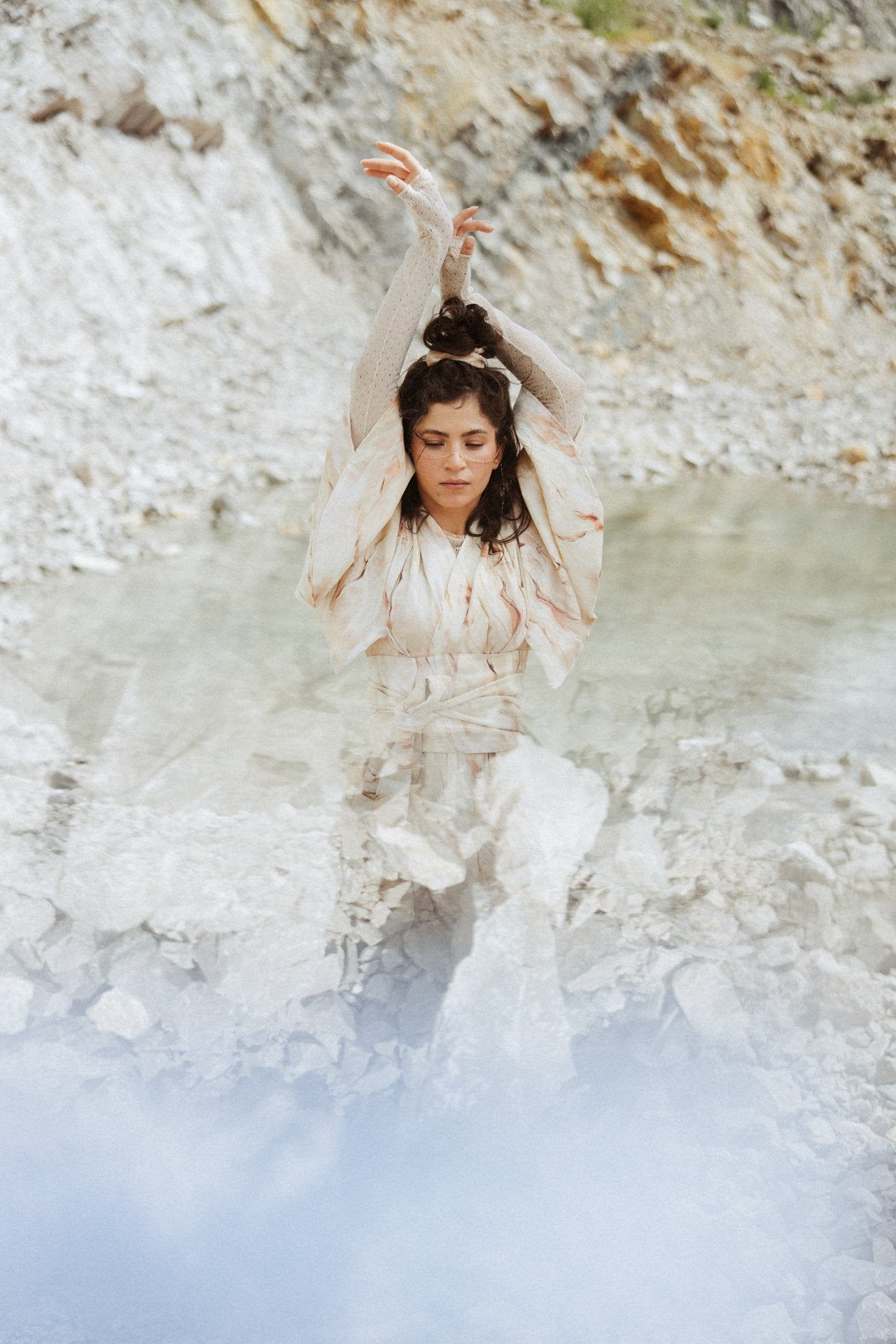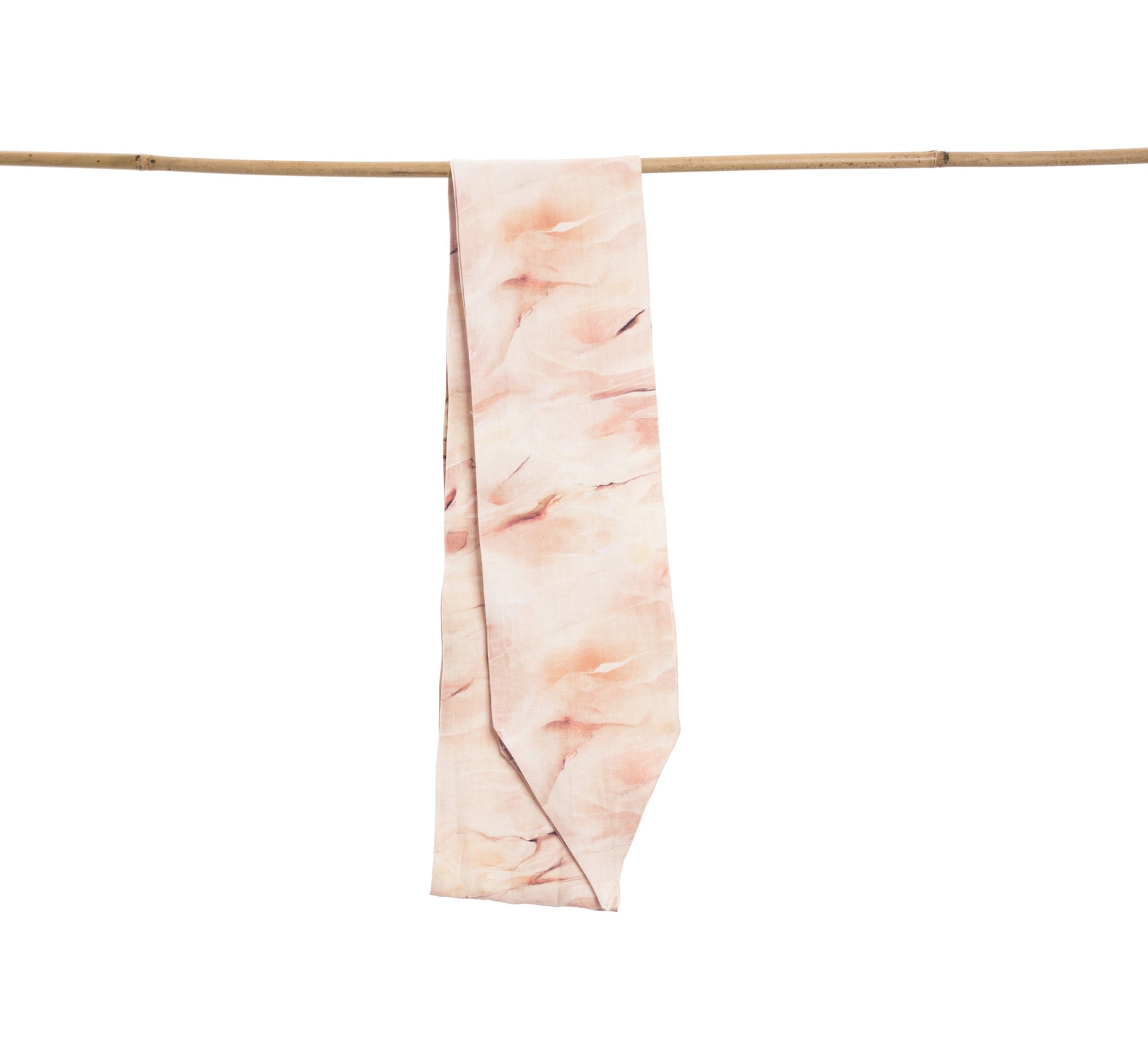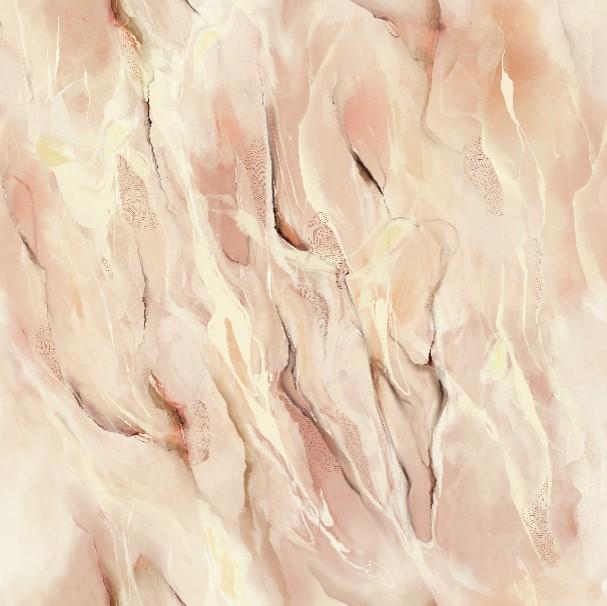 Deep Within Head & Body Wrap
Head & Body Wrap made of linen is a complementary accessory to the Deep Within Yukata Kimono that you can buy here: Deep Within Yukata Kimono . You can easily achieve a fashionable "total look". It also works great for spring and summer stylings, by adding an original accent to dresses or loose blouses, beautifully accentuating the female waist.
It is not the end! The belt can also be tangled around your head and body creating an infinite number of variants: an African half-turban, a shawl woven into your hair like 70s fashion icons, or a fancy top for the summer heat.
With the newest autumn/winter collection Looks by Luks yet again call for a moment of rest and reflection in this hectic modern life. In the 2021/2022 season we pose a question: what if we stopped rushing all the time - always moving forward, achieving goals, thinking about the finish line - and in return stopped to think about how it all began? The organic gifts of Nature herself will help us to do so. In awe of her pure beauty we reached for the power of natural stones that inspired us to create four original prints of the collection.
Origin is the wisdom of crystals represented by amethyst, agate, tourmaline and rose quartz. They show us that it's worth looking deep under the surface, beyond the often misleading appearance. They help us to remove negative emotions and achieve the purity of mind. Opening us to the world, the stones also teach us to love ourselves and motivate us to discover our true desires.
They have accompanied us since the Beginning. Let them stay with us until the End, as our guides through uncharted paths of life.
Head & Body Wrap with the Deep Within print designed by Sandra Chojecka, shows the section of Rose Quartz, called "the stone of love". Its pink shades and scar-like texture perfectly symbolizes the center of the human body - our heart. A hot heart, which - thanks to the stone's energy - remains open not only to romantic love, but also to good relationships with other people, nature and, above all, yourself. The energetic field Quartz produces stimulates compassion and altruism, helping to build harmonious relations and appreciate the beauty of fleeting moments. This extraordinary crystal allows you to take a bold step and to look inside your soul, to discover your true needs and open up to the world around us. A person protected by Quartz exudes inner beauty and attracts both positive people and good experiences.
Wrap's color in the photo may vary based on screen type.
For the details about sizes please refer to the link from the bottom of the page "Sizes".
Handwash at 30°C only. Dry flat.
All our products are made the way to complement each other, so they fit perfectly in various combinations. You can choose a kimono or a scrunchie with the same pattern as your turban, or easily create a matchy look with your daughter, sister or best friend.
Looks by Luks will donate part of the profit from the Origin collection to the Świętokrzyskie Mountains Geopark, which focuses on promoting the unique geological and cultural heritage and using it in sustainable tourism. The first Polish geopark with the prestigious UNESCO status since April 2021 keeps confirming its global reputation by creating local cooperation networks and fostering local tourist products based on unique geology and local traditions.
COUNTRY
SHIPPING COSTS (via courier)
AUSTRIA
6.50 EUR 

*

BELGIUM
7.00 EUR 

*

BULGARIA
8.50 EUR 

*

CROATIA
8.00 EUR 

*

CYPRUS
29.50 EUR
CZECH REPUBLIC
7.00 EUR  

*

DENMARK
7.50 EUR 

*

ESTONIA
11.00 EUR 

*

FINLAND
15.50 EUR
FRANCE
11.00 EUR 

*

GERMANY
6.50 EUR 

*

GREECE
5.50 EUR
HUNGARY
9.00 EUR 

*

ICELAND
National Post: 5.50 - 7.70 EUR
IRELAND
18.00 EUR
ITALY
10.50 EUR 

*

LATVIA
10.00 EUR 

*

LIECHTENSTEIN
36.50 EUR
LITHUANIA
9.00 EUR 

*

LUXEMBOURG
8.00 EUR 

*

MALTA
24.00 EUR
NETHERLANDS
7.50 EUR 

*

NORWAY
52.00 EUR
PORTUGAL
10.50 EUR 

*

ROMANIA
11.00 EUR 

*

SAN MARINO
32.50 EUR 
SERBIA
13.50 EUR 

*

SLOVAKIA
6.50 EUR 

*

SLOVENIA
9.00 EUR 

*

SPAIN
12.00 EUR 

*

SWEDEN
12.00 EUR 

*

SWITZERLAND
36.00 EUR
TURKEY
53.50 EUR
UK
National Post: 5.50 - 7.70 EUR
For the countries not mentioned above: 
| | |
| --- | --- |
| COUNTRY | SHIPPING COSTS (via National Post) |
| ASIA | 11.00 EUR |
| SOUTH AMERICA | 11.00 EUR |
| AFRICA | 10.00 EUR |
| NORTH AMERICA | 10.00 EUR |
* Free shipping available for orders over 195.00 EUR
Payment methods: 
SIX Payment Services (via Przelewy24):
HEAD & BODY WRAP

| | |
| --- | --- |
| Size | Dimensions |
| One size | 280 x 17 cm |
SILK SCARF
| | |
| --- | --- |
| Size | Dimensions |
| One size | 110 x 110 cm |
BANDANA
| | |
| --- | --- |
| Size | Dimensions |
| One size | 95 x 65 cm |
HEAD SCARF
| | |
| --- | --- |
| Size | Dimensions |
| One size | 110 x 90 cm |