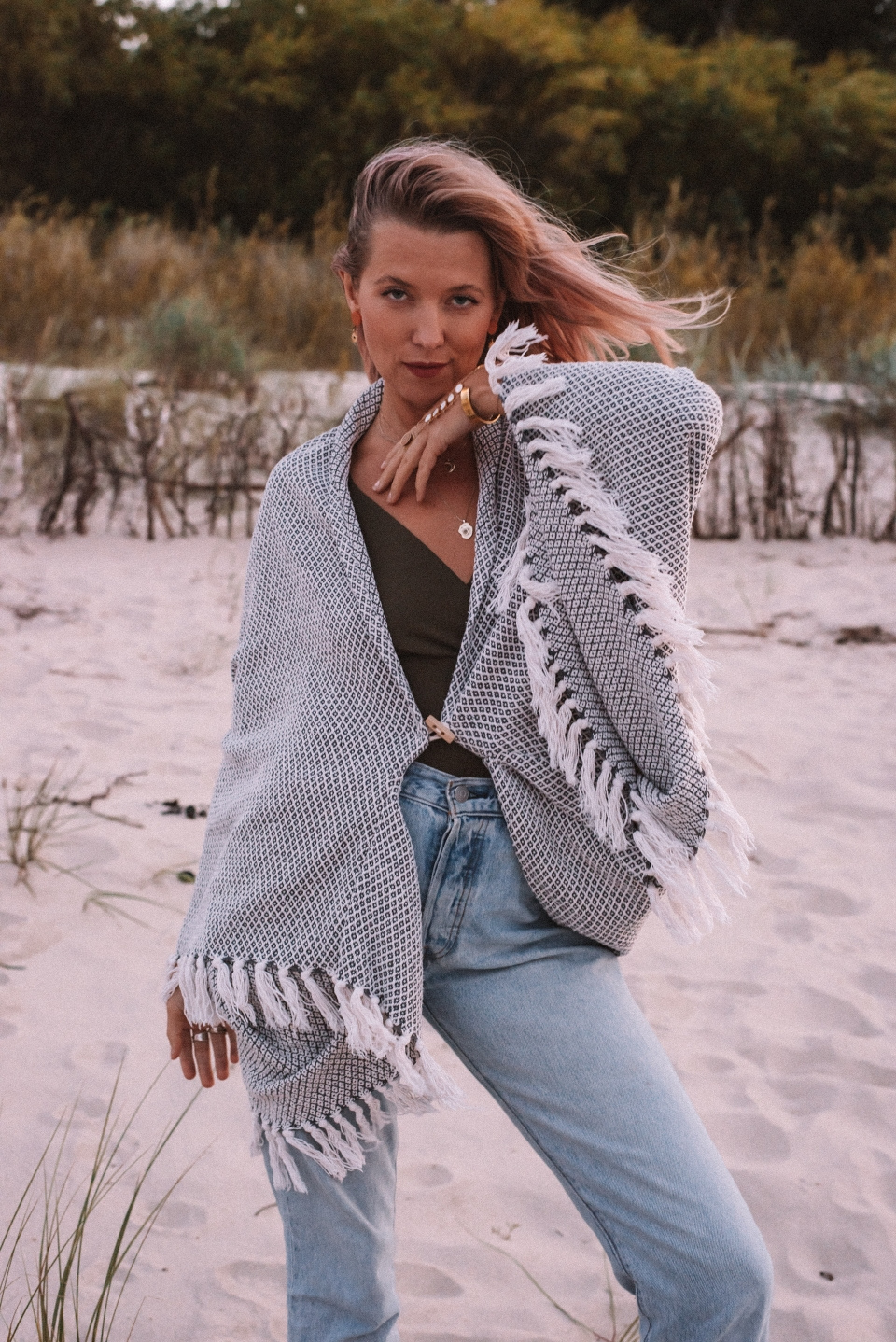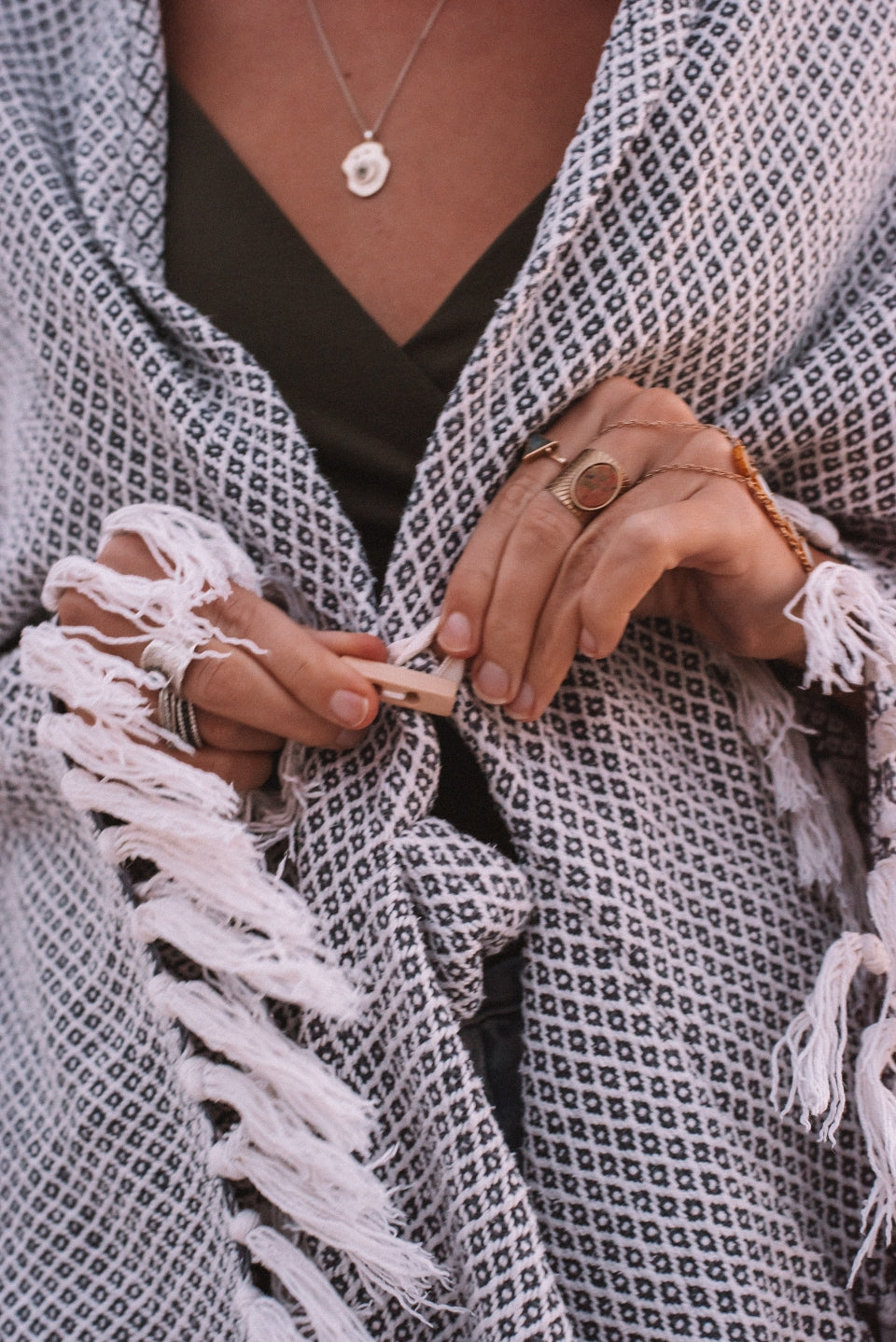 Houndstooth Fringed Poncho
A stylish poncho with the iconic houndstooth pattern, made from a blanket that has been given new life through a creative process of upcycling. It is a unique combination of classic and modern style, along with an individual approach to fashion. Those who value uniqueness and effortless elegance must have a poncho in their wardrobe!
We've paired the timeless pattern with fringes that adorn the sleeves, dancing merrily in motion and adding that 'something' to the poncho. The delicate wooden button is not only functional, but also pro-eco and looks stylish. Effortlessly elegant and chic, the poncho will make you comfortable at the same time, thanks to its wide, relaxed fit. 
Re-work Houndstooth Fringed Poncho is the perfect choice on cooler days, yet very useful as a lightweight outer layer on warmer days. Versatile, timeless - without a doubt, it will become the cherry on top of your many outfits, regardless of the season or occasion.
This one-of-a-kind piece is limited edition and ready to be shipped.
RE-WORK is yet another idea for sustainable fashion and introducing ecological solutions in day-to-day life. Since the very beginning at Luks we strive to be a synonym for eco-friendliness. We use only natural, certified fabrics and minimize the negative impact of fashion (over)production on the environment.
The idea to introduce upcycled products was on my mind for a long time. To create something beautiful from items that became unwanted, when they become "worn" or are not used anymore… that's genius yet so obvious! All that is needed is a little effort and a big amount of creativity and we can do so much for the planet, our home. It all started with scrunchies that we began creating from fabric leftovers. But we're taking a step ahead!
Recycling, upcycling, DYI… I know, sometimes it's hard to follow all the differences and nuances. Let's recall what recycling is all about – it's reprocessing used items in a way a new version of the same material is created. Good example is a newspaper, which is thrown into a designated garbage bin for paper to be later reprocessed into recycled paper. Upcycling is also a form of reusing waste, but in this process new products with higher value than the repurposed materials are created. Example? Furniture made from transport pallets that are getting so popular recently.
Upcycling allows to decrease the number of fabrics used in both - the primary production process and reprocessing. It's a genius way to stand against consumerism and open an incredible field for imagination. By using unwanted rugs, coverlets, decorative elements such as fringes and old bags we can create stunning, unique clothes. 
The REWORK project is a way Luks gives new life to unwanted materials. We will be adding unique, hand made products in a very limited amount. We will be dropping literally single pieces, so it's going to be exciting. First come, first served!
We hope you will give us a little credit for our new eco-oriented initiative. I can assure you, you will be wearing our unique clothes and accessories knowing that you are doing something good for the environment. Together, we create fashion of the future – sustainable, original and extremely creative!
Sylwia Luks
COUNTRY
SHIPPING COSTS (via courier)
AUSTRIA
6.50 EUR 

*

BELGIUM
7.00 EUR 

*

BULGARIA
8.50 EUR 

*

CROATIA
8.00 EUR 

*

CYPRUS
29.50 EUR
CZECH REPUBLIC
7.00 EUR  

*

DENMARK
7.50 EUR 

*

ESTONIA
11.00 EUR 

*

FINLAND
15.50 EUR
FRANCE
11.00 EUR 

*

GERMANY
6.50 EUR 

*

GREECE
5.50 EUR
HUNGARY
9.00 EUR 

*

ICELAND
National Post: 5.50 - 7.70 EUR
IRELAND
18.00 EUR
ITALY
10.50 EUR 

*

LATVIA
10.00 EUR 

*

LIECHTENSTEIN
36.50 EUR
LITHUANIA
9.00 EUR 

*

LUXEMBOURG
8.00 EUR 

*

MALTA
24.00 EUR
NETHERLANDS
7.50 EUR 

*

NORWAY
52.00 EUR
PORTUGAL
10.50 EUR 

*

ROMANIA
11.00 EUR 

*

SAN MARINO
32.50 EUR 
SERBIA
13.50 EUR 

*

SLOVAKIA
6.50 EUR 

*

SLOVENIA
9.00 EUR 

*

SPAIN
12.00 EUR 

*

SWEDEN
12.00 EUR 

*

SWITZERLAND
36.00 EUR
TURKEY
53.50 EUR
UK
National Post: 5.50 - 7.70 EUR
For the countries not mentioned above: 
| | |
| --- | --- |
| COUNTRY | SHIPPING COSTS (via National Post) |
| ASIA | 11.00 EUR |
| SOUTH AMERICA | 11.00 EUR |
| AFRICA | 10.00 EUR |
| NORTH AMERICA | 10.00 EUR |
* Free shipping available for orders over 195.00 EUR
Payment methods: 
SIX Payment Services (via Przelewy24):